Links
"For more than three decades, the Animal Legal Defense Fund has been fighting to protect the lives and advance the interests of animals through the legal system."
The only way to make lasting changes that improve the lives of all animals is by changing the laws that affect them through our legal system.  ALDF is doing that, state by state and by "encouraging the federal government to enforce existing animal protection laws."  Please read their "About Us" page for complete information and watch their "Who We Are Video."  You will be amazed.
Best Friends Animal Society is a nonprofit organization "building no-kill programs and partnerships that
will bring about a day when there are No More Homeless Pets®." They are committed to "a better world thorough kindness to animals." Words I try to live by. Click the icon for more information. They have
the largest no-kill animal sanctuary in the world, located in Kanab, Utah.
The David Sheldrick Wildlife Trust, was established in 1977 by Dr. Dame Daphne Sheldrick, in memory of her husband, David Sheldrick, a naturalist and the founder of Kenya's Tsavo National park.  It exists to protect wildlife in Kenya and has become famous for rescuing and hand-rearing orphaned elephants and rhinoceros to return them to the wild. You have no idea what a challenging endeavor this is, involving identifiying and producing special formulas and a trained team of "keepers," who rotate sleeping overnight with the orphaned babies, whose size belies how fragile and vulnerable they are. Elephants are highly intelligent and extremely social creatures that can recognize themselves in a mirror and openly grieve the death of family members.
The Trust is a registered charity in the UK, is a Kenyan non-profit, and a 501(c)(3) in the United States.  Their work is too broad and too important to try to capture in a few words here.  In addition to saving these precious creatures, the Trust manages anti-poaching teams, mobile veterinary units and community outreach programs. Please visit their website.  They take "homeless no more" to a completely new level. I get chills just thinking about their work.  National Geographic wrote about the Sheldrick Trust in September 2011.
For the love of her Pomeranian, Mr. Chips, who became incontinent from diabetes, the founder of
Do-Rites®, created a unique and effective dog diaper. The Do-Rites® diaper is dedicated to his loving memory and to all dogs who are considered a member of the family.
Dental Care is Crucial Care
P. Elizabeth was compelled to write her latest book, which honors the unique bond we have with companion animals, after suffering the sudden death of her forever dog, Amazing Grace Anderson, to whom the book is dedicated and whose photo is shown below: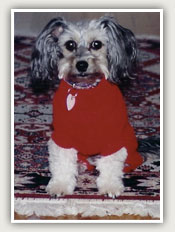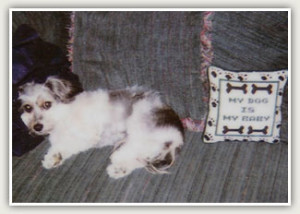 Amazing Grace Anderson died unexpectedly while having her teeth cleaned. This is not intended to scare you from having your "pet's" teeth cleaned. No, just the opposite. This is to impress upon you how important dental care is.  Begin dental care EARLY so your puppy or kitten will be comfortable with having his or her teeth cleaned. By some accounts, dogs as young as three years old have dental disease. Diseased gums release high levels of bacteria into the bloodstream, which can travel to other organs in the body, such as the heart, and cause serious harm. Use proper food and proper hygiene. If you adopt a young adult or older dog, who will not let you brush the teeth, try one of the dental rinses and use that frequently, daily if possible.  C.E.T. Home Dental Care products, available from your veterinarian, include toothpaste, mouthwash, and chews. Other products include, Petrodex Dental Spray, and Brighter Bite Dental Spray. Always read product information carefully and check with your vet before using any products.