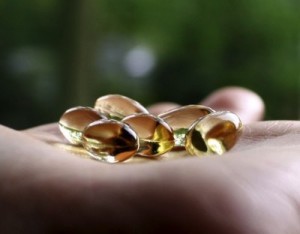 Omega-3 fatty acids may lower inflammation and guard against further declines in heart function among people who have had a recent heart attack and who already receive optimal standard care.
Patients in a recent study who took 4 grams of an omega-3 fatty acid capsule daily for six months after a heart attack showed improvements in heart function compared to patients taking a placebo.
The omega-3 fatty acid used in the study, Lovaza, is available only by prescription. Lovaza, which is prescribed for patients with high triglyceride levels, has not been without controversy.
Each one-gram capsule contains 465 mg of EPA and 375 mg of DHA. Just a little Internet research revealed a NOW Brand of Ultra Omega-3 with 500 mg EPA and 250 DHA. Why is one a medication and one a supplement?
Glaxo Smith-Kline says that their processing is different. What do you think?
There are some very trustworthy supplement and herb manufacturers out there that were providing important supplements for health consumers before pharmaceutical companies starting seeing profit potential in "alternative therapies."
Regardless, this study confirms the benefits of omega-3 fatty acids, which seem like a safe and easy way to protect the heart.
Research results will be presented at the American College of Cardiology's 64th Annual Scientific Session in San Diego March 14-16, 2015.
The study was funded by the National Institutes of Health. GSK supplied the Lovaza, but did not participate in the study analysis.