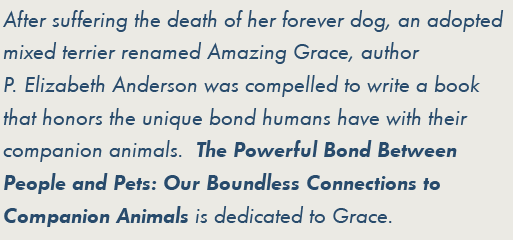 P. Elizabeth Anderson is an experienced and respected health journalist and author, who has written for a variety of publications. An avid animal lover and advocate for humane treatment of all animals, her latest book explores the complex nature of the relationship between people and their companion animals.
More about P. Elizabeth Anderson here.
This unique book merges the latest scientific findings from the burgeoning field of human-animal studies with profiles and vignettes—everyday, unusual, and always insightful—of people and their companion animals.
An informative and engaging read, this evidence-based exploration of the relationship people have with their companion animals has received rave reviews.
Beginning with the history of the human-animal bond, the book describes how our lives are inextricably intertwined and examines the impact the relationship has had on human evolution, culture, society, and history.
As a longtime animal welfare advocate, P. Elizabeth Anderson delves into various issues associated with the human bond to animals, such as why certain animals were domesticated and others were not, the roles animals play in our lives, why we treat them like children, the inexplicable grief we experience when they die, and the ways we betray the bond with inappropriate behaviors such as animal abuse and neglect.
People who live with companion animals will enjoy the accurate insights into this unique bond and will relate to the profiles that bring the scientific evidence to life.
People unfamiliar with the bond between people and "pets" will find themselves enthralled by the expansive and deep nature of the relationships. The extensive bibliography is a gateway to more information for researchers and students.
Read more about the book here.
Scroll down this page to see pictures of Grace.